GE Profile Series
PFE28PSKSS

A 27.8 cu. ft.Stainless Steel French Door Refrigerator with built-in Keurig K-Cup Brewing System!

OVERALL:  The GE Profile Series PFE28PSKSS French Door Refrigerator just reaffirms what we already knew about the line of GE Profile refrigerators -- these fridges rock.

---
This french door refrigerator is loaded with really unique and useful features.  From the K-Cup Brewing system and Drop Down Shelving, they really thought this one through.

It's not quite a Smart Appliance, but it does have GE's exclusive Wi-Fi Connect which allows you to pre-program your K-Cup brewing times.

It can also sync up to your Alexa or Google Home device to get real-time feedback, alerts and optimized operational settings.

The styling is clean, simple and modern and just one more reason why this refrigerator also wound up on our Top 10 Refrigerators List for 2019 . 

Notable Features of the GE Profile Series PFE28PSKSS:

As mentioned above, this GE Profile Series PFE28PSKSS French Door Refrigerator is loaded with features, such as:


Keurig K-Cup Brewing System:  What a convenient way to free up some counter space!  Incorporate one of your favorite appliances into another appliance!

That's exactly what the folks at GE did.  They took the Keurig K-Cup Brewing System and integrated it into the water and ice dispenser of this fridge.

Enjoy a single serving K-Cup coffee or tea brew whenever you like.

Hot Water Scheduling:  Use the GE Kitchen App to schedule your hot water to be ready when you want it.  Not exactly a feature that will save lives, but it sure makes it convenient!


Full Width Temperature Controlled Drawers:  Seems like a small thing, but having a full width drawer with an adjustable temperature setting allows you to keep your meats, cheeses and vegetables in climates that won't damage the flavor.

Let's be honest, frozen cheese is gross.  :)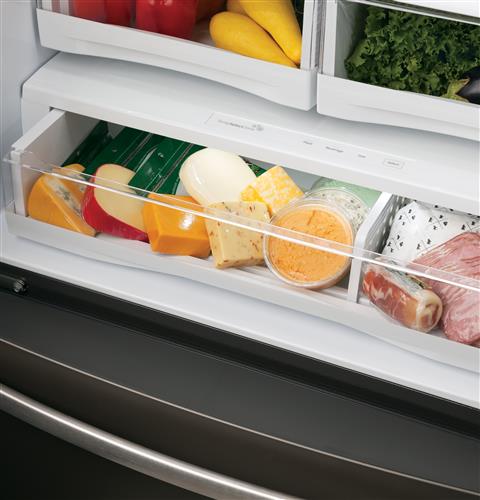 TwinChill Evaporators:  The GE Profile Series PFE28PSKSS French Door Refrigerator uses their exclusive TwinChill Evaporation system. Having Separate climates in the freezer and refrigerator sections avoids crossover contamination.

Meaning, your ice-cream won't taste like your onions.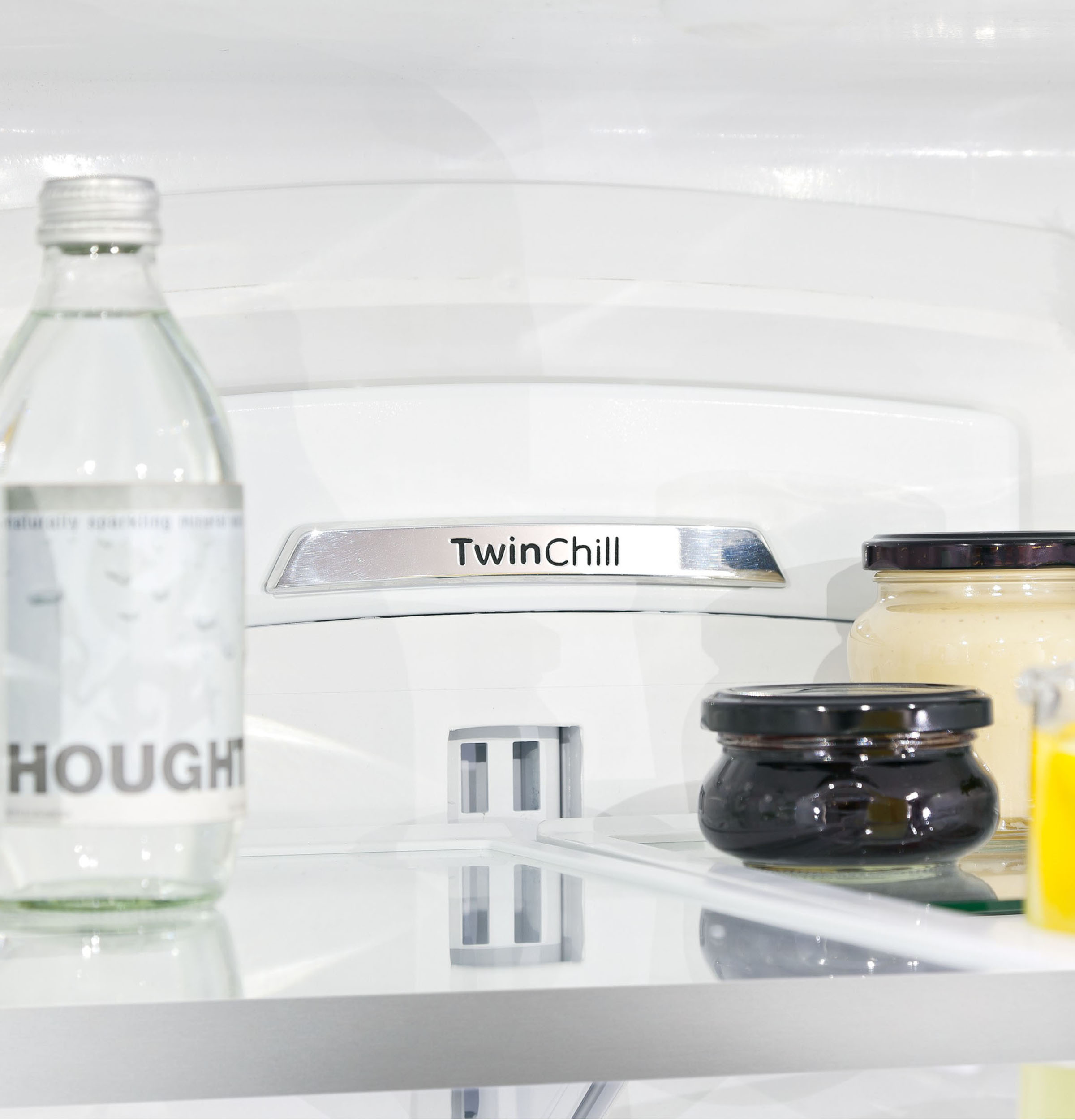 Drop Down Tray:  One of our favorite features of this refrigerator is the unique Drop Down Tray system.  Which allows for extra door storage.

It drops down when you need it and tucks away when you don't.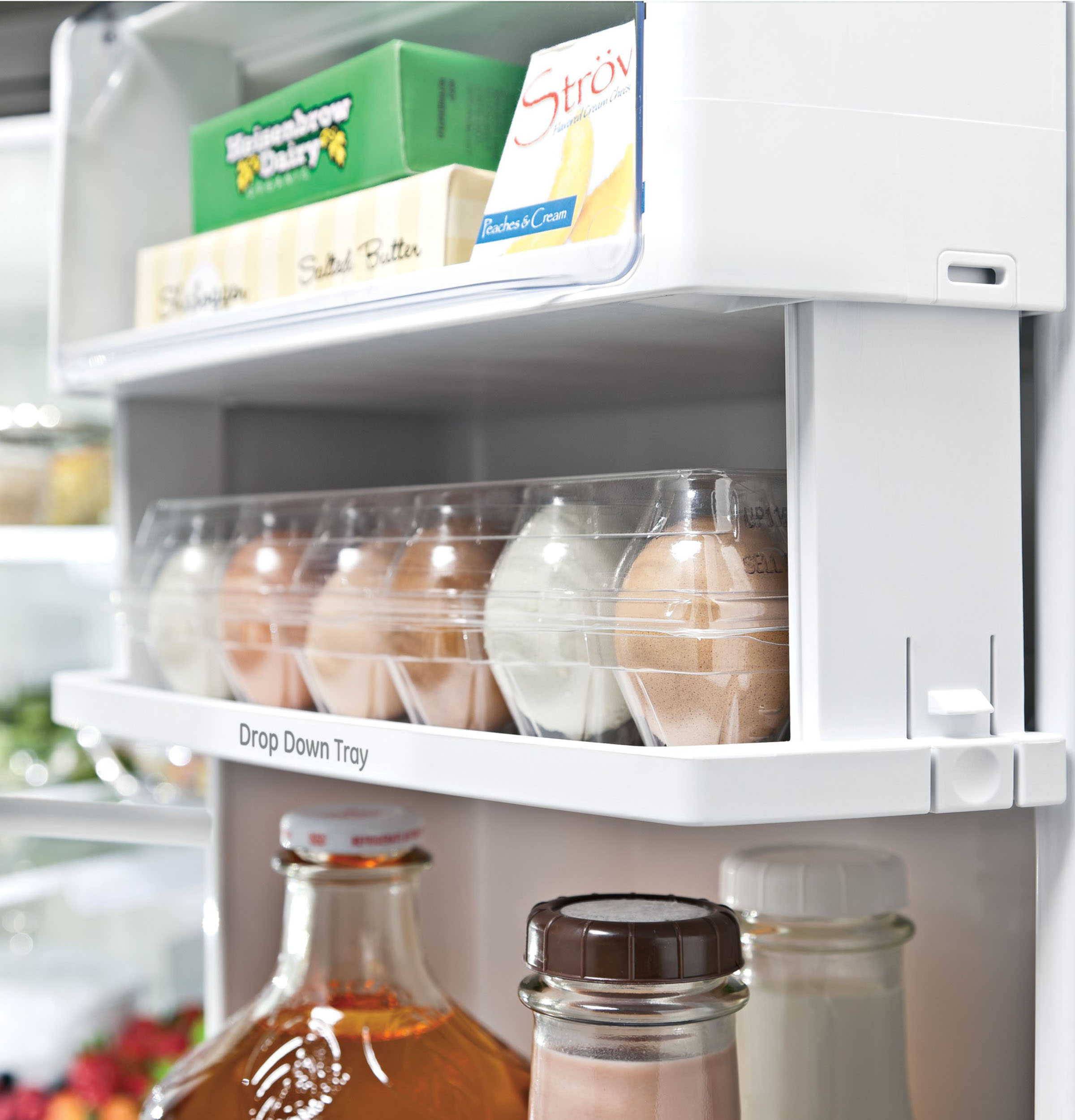 Other Relevant Information

CAPACITY:   27.8 Cubic Foot Interior


COLORS:  Stainless Steel


MSRP:  $3,399.00 (But closer to $3,000.00 online.)

---
---