Bosch 800 Series Refrigerator
Bosch Refrigerators Should be at the Top of Your Shopping List

The Bosch 800 Series Refrigerator line isn't made for those looking for an average refrigerator. 
This is definitely one of the top of the line refrigerator models that should be strongly considered if you're looking for something that has the latest in appliance innovation coupled with a styling that will make you the envy of anyone who sets foot in your kitchen.
Bosch Appliances are exceptionally well made and reliable.  Although they can be at a bit of the higher end of the cost spectrum, you tend to get what you pay for.  In this instance -- that's a good thing.
There are only four different models in the 800 Series line.  However, if you're in the market for a built in refrigerator, we can assure you that this is a choice worth considering. 
---
Is the Bosch 800 Series Refrigerators Worth the Price?

There are a number of unique features that are worth pointing out on the Bosch 800 line.  Which specific features you will have available in your refrigerator will depend on which model you choose.  Here are some of the standouts from the Bosch B36BT830NS Built In French Door Refrigerator: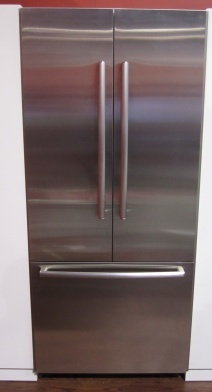 GORGEOUS STAINLESS STEEL: Even though stainless steel has been waning in popularity as of late with the ever increasing demand for other finishes (see Whirlpool White Ice Appliances)
Also, the sleek, contoured handles are very eye catching.

---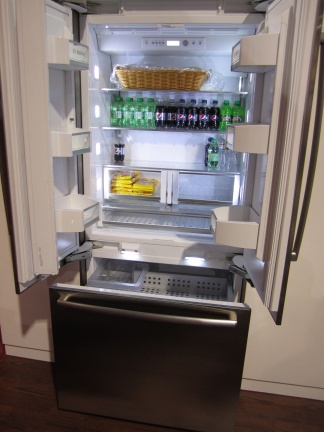 SPACE:  There is a tremendous amount of interior storage space.  This is the perfect refrigerator for a family of four.  Again, this model is a bit TALLER than some of the other models in the 800 Series line.

---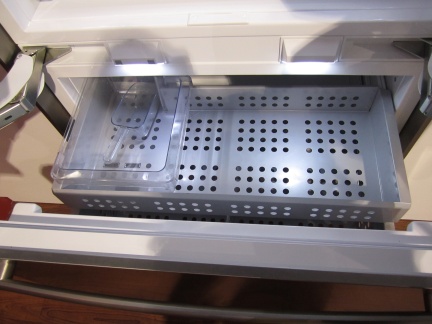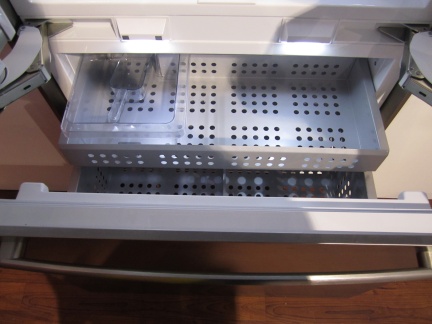 FREEZER SPACE:  The Freezer space is also well appointed and easy to access.  It's two drawers that pull out one on top of the other as you can see in the pictures above.  It's a bit limited for what you'd expect at this level especially when other refrigerators from Subzero and Viking offer a bit more for the money.

---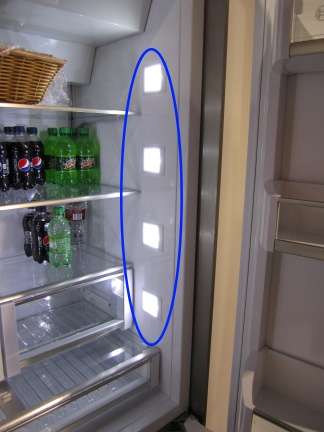 LED LIGHTING:  In addition to lights at the top and back of the fridge unit, you'll also find these wonderful BLOCK LIGHTS on either side of the refrigerator allowing you ample lighting to see CLEARLY everything in the front, back and everywhere in between. (Just FYI:  We added the Blue Oval).

---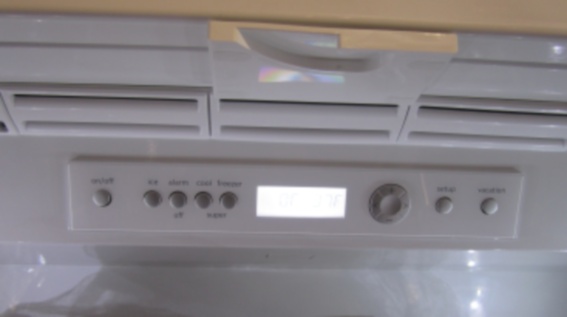 EASY ADJUST  CONTROLS:  Okay, so it's not the best picture, but the controls are EXTREMELY easy to understand and utilize.  Our biggest complaint especially on the Bosch B36BT830NS Built In Refrigerator was that the control panel was simply TOO HIGH for the average person to reach.  But, it certainly keeps the kids from mucking with it!

---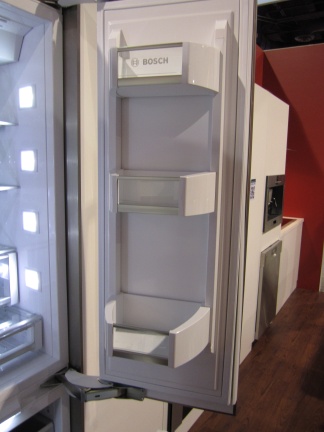 Limited Door Storage:  This isn't unique to the 800 Series, but unfortunately, there just isn't a lot of effective door storage when it comes to some french door units.  We were pleasantly surprised just how much DID fit into these wells, but considering the price we expected and hoped for more.

---
Our Summary of the Bosch 800 Series Refrigerator Line

All in all this is an impressive line of refrigerators.  Minus a few design flaws that we feel could better maximize the interior of the doors and the placement of the control panel in the Bosch B36BT830NS built in unit, we strongly recommend this line if this is a style you're considering. 
Bosch 800 Series Refrigerators are EXTREMEMLY reliable which is not something a lot of refrigerators of this caliber can say.  That alone should tell you not to rule this out. 
---