Whirlpool Gold GB9FHDXWS
Bottom Freezer Refrigerator
18.5 cu. ft. Bottom Freezer Resource Saver Refrigerator with Ice Maker – Stainless Steel Finish
Overall: The Whirlpool Gold GB9FHDXWS bottom freezer refrigerator is the smaller of the two Whirlpool Gold bottom freezer refrigerators in the Whirlpool Gold line. The larger one (GB2FHDXWS) has 22 cu. ft. of internal storage but both can be considered just a bit deeper than counter depth refrigerators at a depth of 33.5".
While this fridge may have less storage space, it is still a great refrigerator for a single person or a couple. If you'll be adding on to your family size in the next 3-5 years, then we recommend looking at the larger Whirlpool Gold bottom freezer (see link above) or take a look at the Whirlpool Gold French door refrigerator reviews.

Capacity: 18.5 cu. ft.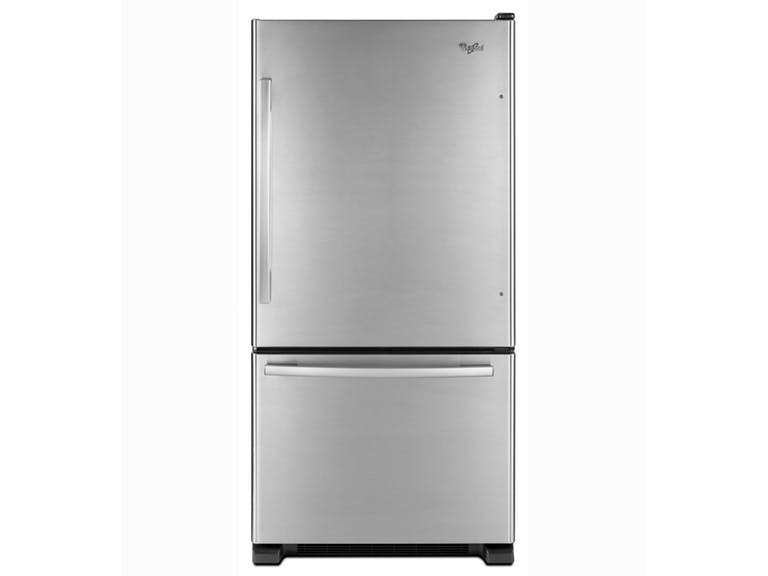 Notable Features:



Fits Anywhere: While this is a full size refrigerator, its great for an apartment refrigerator or for studio living. The other great thing is if you move the door can be changed to open on either side.




Great Temperature Control: A well designed refrigerator needs: a designed box that keeps the cool air in, a defrost system that doesn't go overboard and create freezer burn and high electric bills, specialized bins that keep different things like produce, meats and cheeses in their optimal setting, and an easy to use temperature readout and control panel. The GB9FHDXWS has all of these features.




Easy to Use Bottom Freezer: While bottom freezers are great, if they aren't organized they can be very hard to use. Whirlpool added 2 slide out baskets to the freezer to keep everyday items easy to access. Adding a light installed in the factory makes finding what you need simpler. Best of all they've included a factory installed ice maker very accessible an no through-the-door dispenser problems we hear about every day.

Colors: Stainless Steel as well as Black and White on White.

Efficiency: The Whirlpool Gold GB9FHDXWS bottom freezer refrigerator is is part of the Whirlpool Resource Saver line (saves even more energy than an Energy Star). So yes, it is Energy Star rated.

MSRP: $1499 for the GB9FHDXWS.
---
Similar Models to Whirlpool Gold GB9FHDXWS Bottom Freezer Refrigerator
Knowing the Whirlpool Gold Bottom Freezer Refrigerator line is quite small we decided to show you a few of the other possible choices you have in bottom freezers. Take a look to see if any of them work for you:
---