The Maytag MFI2568AES French Door Refrigerator Review
24.9 cu. ft. French Door Refrigerator with 2 Slide-Out Spill-Catcher Glass Shelves
Overview: The Maytag MFI2568AES French door refrigerator was one of the first French Door Refrigerators with an in door water and ice dispenser.
Although this is a wonderful feature to have on any refrigerator, the ice maker unit always tends to eat up a lot of your storage space, and the same goes here.
That said, this Maytag French Door Refrigerator performed flawlessly.  It's radius styling makes this a refrigerator that can blend into almost any existing decor.
Additionally features like the Elevator Shelves make is possible to fit just about anything you could ever need into its interior.  We highly recommend this unit.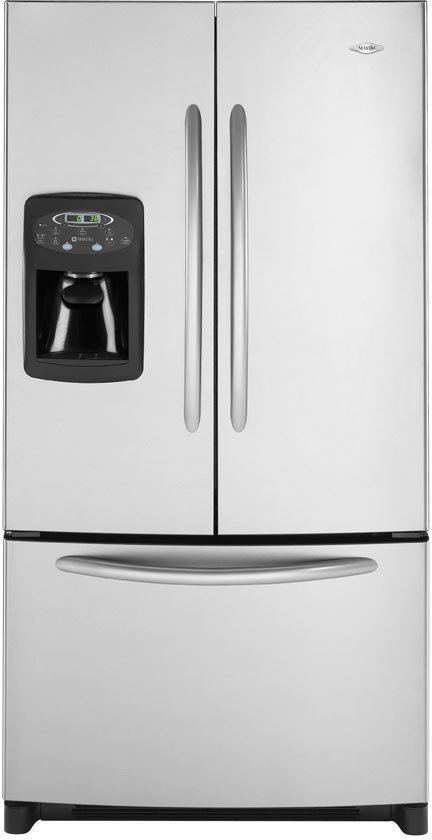 Style: 
The sleek, modern styling of the Maytag MFI2568AES French Door Refrigerator earns high marks with our style experts.  It should fit best in most modern kitchen decors.


Capacity:  
Maytag refrigerators seem to be the most spacious available.  Although this unit definitely delivers on its 25.0 cu. ft. capacity, the fact that much of the space is hampered by the ice maker, it makes it difficult to give it a five start rating for capacity.
That said, because of the addition of the elevator shelving and Easy Glide Shelving (which makes it easier to retrieve items at the back of the fridge), it feels like there's a lot more available storage space than there is. 


Notable Features:  

As we mentioned so far, the elevator shelving is a great addition.  A bit of a crank and the shelves go up or down dependingon your needs.  

The water and ice dispenser are also a nice feature to have, especially in a French Door Refrigerator.  The ice maker on this particular unit performed flawlessly and seemed to pump out more than enough ice in about forty minutes.

The lighting system deserves mention as well as we had a clear view of just about everything in the fridge.

Lastly, the Water Filter on the Maytag lasts up to a year.  Whereas most typical water filters barely get six months in before you need to change them out.


Colors: 
This unit is available in high gloss Black, Bisque, White and of course Stainless Steel.  The high gloss is prone to fingerprints, so keep that in mind if you have young children or a sticky husband.


Efficiency:
It's Energy Star Qualified and the well insulated construction should keep it running smoothly and cheaply for years to come.
Purchasing this or any energy star rated fridge will entitle you to an Energy Star Rebate from the US government. Click here if you'd like to see a full list of Energy Star Refrigerator Reviews.


Dimensions:
Its dimensions are: Depth – 35 1/4in, Width – 35 5/8 in, Height 70 1/8 in.


MSRP: $2,499.00
---
Similar Maytag French Door Refrigerator Models
In case this particular french door refrigerator doesn't work for you, here are three similar models to the Maytag MFI2568AES that you might also consider:
---