LG French Door Refrigerator LMX25984ST Review
24.7 Cu. Ft. 4-Door French Door Refrigerator with Exterior Water & Ice Dispenser - Stainless Steel Finish

Overall: The LG French Door Refrigerator LMX25984ST was one of the most popular models on the market, mainly because of the great features like the tall ice/water dispenser and the easy to clean stainless steel. It's also the perfect size for a family of 4 or less.


Capacity: 24.7 cu. ft.



Notable Features:



Lots of Storage: The double freezer drawers make finding what you're looking for in a bottom freezer a much easier thing. The 4 different crisper compartments were not only perfect for keeping produce fresher for longer, they are also incredibly helpful with internal organization.




Easy and Fast Ice Maker: The tall ice/water dispenser on the door that allows you to fill anything with ice/water – even pitchers. The SpacePlus™ ice making system is great because it adds extra space for interior storage. IcePlus fast freezing ability to ensure the freshest quality.




Great Lighting: This refrigerator has LED lights in it to not only help you see better but also to keep the temperature in your refrigerator a bit more constant. LED lights not only don't heat up but they have a very, very long life and most of them should never burn out.



Cons:
The ice maker makes ice quickly but it doesn't hold very much at one time

The stainless steel can be difficult to keep clean but this something we've heard across the board when it comes to buying stainless appliances.

Colors: It came in Stainless, Black and White

Efficiency: Is Energy Star rated

MSRP: The last price that the stainless steel refrigerator sold for was $2599 and the other finishes were priced at $2299 though this model has been discontinued.
Click here to see the Best 4 LG French Door Refrigerators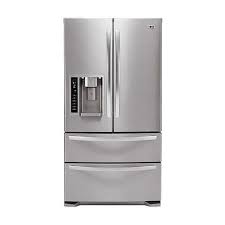 ---
Similar Models to LG French Door Refrigerator LMX25984ST
Seeing as how this model is no longer being made we have a few other current options listed below of LG French door refrigerators that are worth taking a look at:
---