Kenmore 5533 Side by Side Refrigerator
Kenmore 5533 Stainless Side by Side 26 Cu. Ft. Refrigerator Review
| | |
| --- | --- |
| Durability | |
| Style | |
| Cleaning | |
| Functionality | |
| Overall Rating | |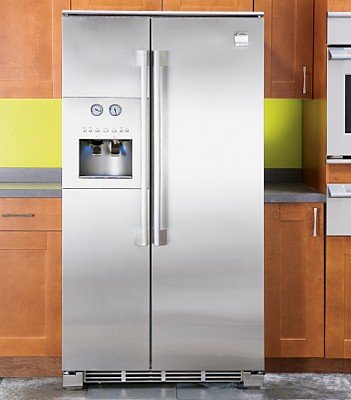 OVERVIEW: As much as we loved the styling of this side by side refrigerator, one of the things that was the most dissappointing was the amount of noise that it made. We think it can be minimized, but we haven't figured out how. It could have been just the fridge freezer at the store had a problem.

The Fresh n' Clean fan feature was nice because it keeps the fridge smelling clean even when stuffed to the gills with food.






STYLE: For the price range, we found this Kenmore Refrigerator had sleek styling that would greatly enhance any kitchen decor. Only the stainless steel color was available, but we couldn't imagine it any other way.



CAPACITY: This Kenmore Fridge Freezer has a 26 cubic foot interior which was more than ample.

The 9.5 cu. ft. freezer was larger than most in this category, but the water and ice dispenser took up most of the excess space.




NOTABLE FEATURES: As mentioned above, the Fresh n' Clean feature keeps this Kenmore Fridge Freezer smelling great no matter how much food you have in there by keeping fresh air filtering in.

The Dual Split Humidity Control Crispers was another great innovation that helps keep this fridge in a class by itself.



COLORS: This unit is only available in stainless steel. While we found it quite impressive looking, you should be aware that fingerprints were clearly evident on the door face (constant wiping required to keep it looking clean) and the door handle seemed to already be fading.



EFFICIENCY: As for it's energy efficieny it is ENERGY STAR qualified.

You'll also be able to save money with this refrigerator due to the current Energy Star Rebates that are being offered as a part of the American Reivestment and Recovery act.

DIMENSIONS: Its dimensions are: DEPTH – 33 3/4in, WIDTH – 35 5/8in, HEIGHT 68 1/8in.



MSRP: $2,499.99



---
Similar Kenmore Side by Side Refrigerators
Here are three other side by side refrigerators made by Kenmore that are similar to the Kenmore 5533 and worth taking a look at:
---
Kenmore Refrigerators

Side by Side Refrigerator Reviews

Refrigerator Reviews

Energy Star Refrigerator Reviews
What Do You Think About Your Kenmore Refrigerator?
Submit your own reviews or read what others think of their current or past Kenmore refrigerators. Scroll down to the bottom to read what others had to say.

Share YOUR thoughts too!

You might consider letting us know:

Where and when you purchased your refrigerator?

How long have you had it?

What do you love or hate about it?

Is it reliable? Would you recommend it?

Anything else you think we should know?

Tell us your story because we're sure that someone wants to know everything you have to say. Have great story about your refrigerator? Share it!