GE Profile PTS25SHS Refrigerator
24.6 cu. ft. Top Freezer Refrigerator with Icemaker and Internal Water Dispenser – Stainless Steel

Overall: The GE Profile PTS25SHS Refrigerator is the "never run out of space" top freezer refrigerator from GE Profile. Considering the fact that it has 24.6 cu. ft. of space it should easily cover the space needs for a family of 4 if not more. It also has a handful of great upgrades you typically don't see in a top freezer refrigerator.

Capacity: 24.6 cu. ft.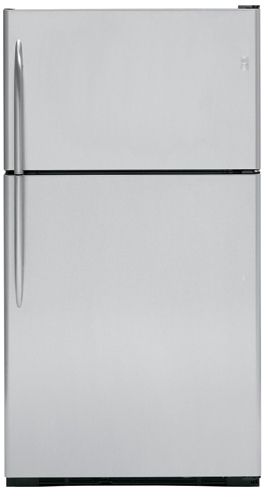 Notable Features:



Food Fresher Longer: The best way to keep food fresher for longer has to do with accurately watching the temperature and air circulation in any refrigerator. This refrigerator has what's called a ClimateKeeper system to watch over both of these functions and help you save money in spoilage.




Cold, Filtered Water: Again this may seem simple having cold filtered water coming from your fridge, but if you take a look at most top freezer refrigerators you'll find that this is not a common feature. Not to mention it coming with a factory installed ice maker.




Great Organization: Between the sliding, spill proof shelves, the dual crispers, the deli bin, the soda can rack and the adjustable door storage (some being gallon sized), you should have no trouble easily filling this refrigerator up and finding what you need.




Reversible Hinges: Buying a refrigerator is a commitment for at least 7-10 years and if you plan on moving in that time this may be quite an important feature. You will be able to change the side from which the door opens depending on your needs.

Colors: This model is stainless steel with black sides though it also comes in black and white for a few hundred dollars less.

Efficiency: Is Energy Star rated

MSRP: $2149 may be what they recommend it be sold for but it isn't even close to the amazing prices it is on the market for today. Here are some of the best deals on this fridge right now:
---
Similar Models to the GE Profile PTS25SHS Refrigerator
If you still need to take a look at other top freezer refrigerators, then here are three more models that might suit your needs. Unless you are set on buying a top freezer refrigerator we do recommend taking a look at the other models of refrigerators on the market today. Between the size and cost of this model you would be able to find a comparable side by side or French door refrigerator.
Take me back to GE Profile Top Freezer Refrigerator Reviews
---