Amana A6TXNWFX Top Freezer Refrigerator
15.9 cu. ft. with Reversible Door
Overall: The Amana A6TXNWFX top freezer refrigerator is perfect for those whose kitchens have a limited amount of available space. It's surprisingly roomy inside, with an impressive 15.9 cubic foot interior storage capacity.
---
It's ideal for a single person or couple, but if you're a family of three or even four, you might just find you'll have the space you need.
Where it lacks in styling, this fridge makes up for it in functionality and price. At just under $600 retail and an annual energy cost of just $50, you'll definitely get your money's worth.
While you might still be able to find this model online and in your local retailer, this particular model has been DISCONTINUED.
The good news is that most discontinued models drop in price pretty dramatically. The negative side is you are at risk of owning a fridge where parts are no longer available should something go awry.
However, the risk is low and considering the low cost on this unit outweighs the potential of owning an inferior product.
Capacity: 15.9 cu. ft.

Notable Features:
Right and Left Opening: You can customize which way you want the door to open. This is ideal for those of us with small kitchens where there might be only ONE way to go! Not sure if you're going to be there long? No worries just change the way the door opens at your new place!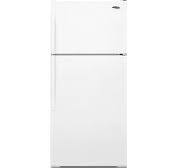 Great Internal Organization: As mentioned above, this fridge has a surprising amount of internal storage space. It's well designed with a full width crisper, an ample deli drawer, and door shelves in both the fridge and freezer portion. You'll be able to organize and find what you need when you need it. 


Wire Refrigerator and Freezer Shelves: I personally don't like wire racks, as they're hard to clean and stuff falls through. That said, in a refrigerator of this size, it makes it easier to find things because you can actually see them. Also, the coating on the wire racks is a smooth plastic making it easier to put things in and take things out.

*Tip: If you hate how things fall through the wire racks then go to a discount store and purchase some inexpensive cutting boards. Place them on the shelves and attach them with bungee cords. No more falling between the cracks!


Colors: This model comes in Black, White and Bisque. We saw the WHITE one. Again, this is a refrigerator you will buy more for FUNCTION than for FASHION. But still, it's an attractive unit.

Efficiency: Is not Energy Star rated

MSRP: $699.00 was the MSRP, but we've seen this online for as little as $549.99. Though this model has been discontinued. Scroll down to see similar current refrigerators as well as more top freezer refrigerator reviews.
---
Similar Refrigerators to the Amana A6TXNWFX
Considering this top freezer fridge is no longer being made, we wanted to provide you with a few other top freezer refrigerators that are comparable -- some of which are available at a substantially lower price.
Make sure to check out other Amana Top Freezers.
---
Replacement Parts for Amana Refrigerators

If instead of getting a new one you are truly looking to keep this wonderful fridge, then the best place to look for real replacement parts is the Amana Replacement Part Center.
You'll want to make sure you get the right one and not a part that was made with less quality than the original which is why we always recommend trying to get the part from the manufacturer if possible.

---