Frigidaire Side by Side Refrigerator Review (model #FRS6HR5JB)
by Cinda
(Idaho)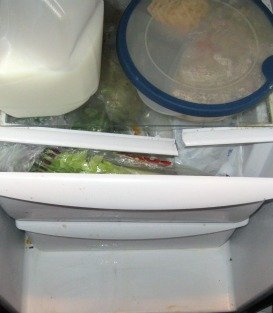 Frigidaire Side by Side Refrigerator Review - Broken Plastic Holding the Shelves
I wish I had happier Frigidaire refrigerator reviews but as you can see by my pictures above -- not so much.


All I can say is don't ever buy a Frigidaire appliance.
We hate our refrigerator!
We talked to a salesmen, and he told us he would never sell a Frigidaire to anyone. He says
they break like crazy
.
We have had ours for a year and it is falling apart from the inside out
. The plastic feels really cheap, and we hate it.
I honestly hope everyone reading this review considers what we have to say before before buying this or any Frigidaire refrigerator.
After only a year of owning this fridge we have to buy a new one
. We are worried about buying a new one, because we don't want it to fall apart on us just like this one did.
The plastic is very cheap
. The plastic breaks, cracks, and gets holes in it!!! All we can say think twice before buying any Frigidaire appliances.
(***I posted pics. The fridge is a lil' dirty. Sorry!!)
Click here for more Frigidaire Refrigerator Reviews